About the partnership
SAS and Flytoget have a lot in common. Both companies focus on punctuality, safety and service, and they work continually to create a high quality travel experience for customers who appreciate that little extra. Both parties wish to take greater responsibility for their customers' entire journey and the partnership is an important step towards a more seamless travel experience.
The partnership is intended to add value to the customer's journey and increase the power of innovation. Work is therefore on-going on the development of further revenue solutions and payment options. The parties are keen to work in close cooperation to develop new business concepts for the benefit of passengers.
About SAS EuroBonus
SAS EuroBonus is the largest loyalty programme in Scandinavia with more than four million members. There are now more bonus journeys available than ever, so this partnership will give new and old EuroBonus members yet another way to collect points for up-coming holidays, or an upgrade to a better standard of service and greater comfort the next time they fly. Points can be redeemed by SAS or one of the company's many partners.
Become an SAS EuroBonus member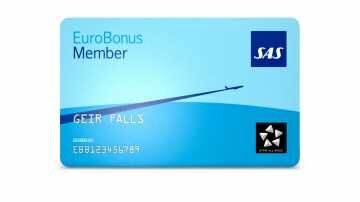 Who can earn points?
EuroBonus members will earn 100 SAS EuroBonus Extra points on every journey they make with Flytoget if they buy their ticket in the Flytoget App or travel ticketless.
Passengers who buy concessionary tickets (senior citizens, students, national service personnel etc.) will earn 50 SAS EuroBonus Extra points. Staff at Oslo Airport are currently unable to earn SAS EuroBonus Extra points from their Flytoget journeys.
SAS EuroBonus members can earn points when travelling by Flytoget, even if they do not go on to fly with SAS.
How can I spend my EuroBonus points?
Earning points through ticketless travel
Enter your SAS EuroBonus membership number and the credit card you wish to travel with, in your My Page profile. In your profile you can also register for ticketless travel with concession, and get receipts sent to your email after every journey.
Earning points through the Flytoget app
Earning SAS EuroBonus points on the Airport Express Train requires you to purchase your ticket via our app. The app is available for download for most smartphones. If you own an iPhone, just search for "flytoget" in App Store. If you have an Android phone, search via Google Play. We do not have an app for Windows phones.
Register your EuroBonus number in your profile information, found in the side menu in the app, or during first-time registration.